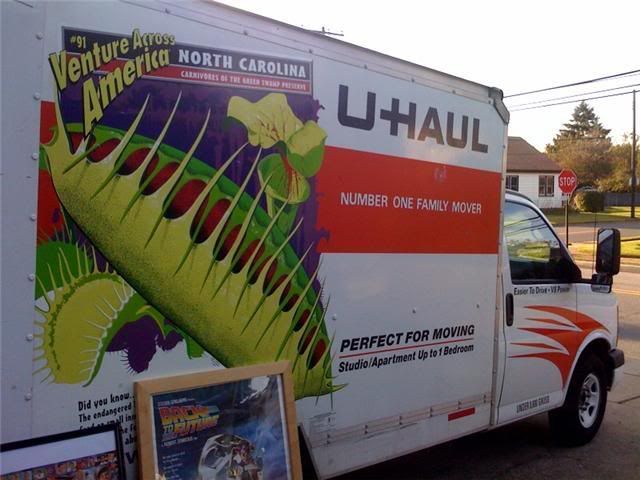 Steven Tsapelas here. Today started bright and early for me at 8AM when I shaved then showered for a court appearance --- Traffic court that is. See, a few weeks back I went to the DMV to change my address when I was faced with some pretty startling news ----
My license had been suspended for two years.
You see...
Five years ago, when I was a lad of 22, fresh out of college, I was driving to the train station when I was pulled over my a friendly, neighborhood police officer who called me a jackass, then gave me a ticket for going 45 in a school zone. Two years after that, I went to court and paid my ticket. Then, three years later, I went to the DMV and was told I needed to show Proof of Insurance to prove that I was insured when I was driving the car while getting the speeding ticket. Because I had failed to show up when they sent me the initial papers (which were sent to the wrong address - because they had the wrong address), they suspended my license. Not that this mattered much. I've been living in Queens for the past four years, and have relied on the public transportation system. But, you know, I'm moving to Los Angeles. A town where if you don't have a car, you're pretty much an invalid.
Of course, I waited until the last possible minute to take care of it. That's just the way I roll. But thankfully, after two hours of waiting in court, I proved I was insured and they gave me back my license - and not a minute too soon! You see, some friends of mine were on their way with a UHaul. Those friends were Brian, Angel and Patrick.
Now, for the past month, Patrick has been keeping the bulk of his shit in a storage space in Manhattan. I've been keeping the bulk of my shit in my parent's garage on Long Island. Tomorrow morning, the movers are coming to Brian & Angel's apartment in Astoria, which means Patrick and I had to get our shit to said apartment. At noon today, Brian and Angel picked up the UHaul, drove to the storage space in Manhattan, and neatly arranged all of Patrick's stuff in the UHaul before making the 2 hours (with traffic) drive to Long Island. When they arrived at my parent's house, they opened the back of the truck to reveal this...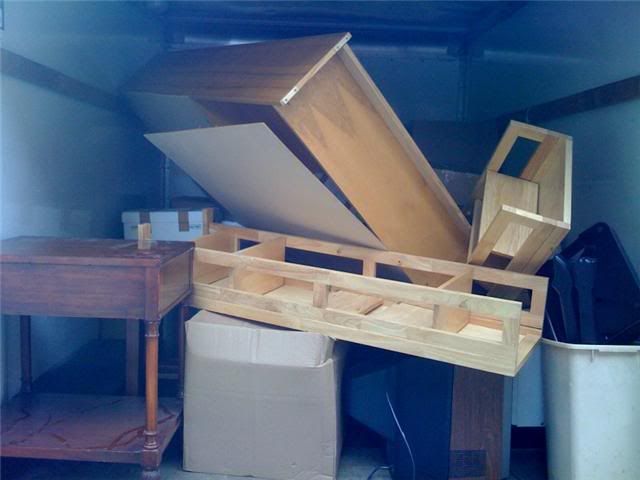 This was clearly not right. After rearranging Patrick's stuff, we packed my stuff in. Or, more accurately, Brian, Patrick and Angel moved my heavy shit, while I supervised.
After we were all packed up, I went inside to say goodbye to my sister Tina and the dogs, Frodo and Samwise. Samwise bit me. Frodo seemed disinterested. But Tina genuinely cared that I was going. So, thank you Tina.
After all of this moving, Brian, Angel and Patrick were famished. Brian pitched Wendy's, but Patrick had a craving for something different. Something powerful. Something quite popular on Long Island. Something like...
This past summer, after a big group field trip to Splish Splash water park, we all expressed an interest in eating at Friendly's on the drive home. Angel, however, pretended not to hear us because he wanted to take a nap, and since he was driving, we missed this opportunity. Patrick Cohen, however, was not going to let this opportunity pass to eat at this great East Coast chain before we left the East Coast.
The four of us piled into the Friendlys to find they now have this new, awesome deal where you can get a dinner, a drink and a SUNDAE for $9.99. This made us all happy. Very happy. This happy...
The moving company is coming tomorrow morning at 9AM. After that, we're heading to Cleveland. It's going to be a bumpy ride! Stay tuned to this blog. And come back tonight for a new post with photos from the goodbye party!